In the fast-paced and ever-evolving world of business, effective communication is key to success. While formal emails and reports are crucial, it's often the informal interactions that lay the foundation for strong professional relationships. Introductions and socializing are integral components of business communication that allow individuals to establish a sense of camaraderie and trust, paving the way for successful collaborations and partnerships. Whether it's a networking event or a casual conversation at the water cooler, mastering the art of introductions and socializing can help you make a lasting impression and unlock new opportunities in the business world.
Thank you for reading this post, don't forget to subscribe!
1. Characteristics of introductions and socializing in business communication
Facilitates building rapport and trust between individuals.
Helps establish a comfortable and friendly environment for communication.
Allows for the exchange of information and ideas in a less formal setting.
Provides opportunities to network and expand professional connections.
Can lead to potential collaborations, partnerships, and business opportunities.
Requires active listening skills to effectively engage with others.
Involves being aware of cultural and social norms to avoid misunderstandings.
Often involves nonverbal communication such as body language and eye contact.
Can be used to introduce and promote oneself and/or one's company.
Is essential for building a strong personal brand and reputation in the business world.
2. Do's and don'ts in introductions and socializing in business communication
2.1. DO'S
Do introduce yourself with a firm handshake, good eye contact, and a smile.
Do actively listen to others and engage in meaningful conversation.
Do ask open-ended questions to encourage dialogue.
Do follow up with new contacts by exchanging business cards and connecting on LinkedIn.
Do respect cultural and social norms and avoid making assumptions.
Do dress appropriately for the occasion.
Do make an effort to remember people's names and use them.
Do express gratitude and appreciation for others' time and contributions.
Do share relevant and interesting insights or experiences.
Do stay professional and courteous at all times.
2.3. DON'TS
Don't dominate the conversation or talk excessively about yourself.
Don't interrupt others when they're speaking.
Don't ignore or dismiss people who may not seem important or influential.
Don't use inappropriate language or make offensive jokes.
Don't invade people's personal space or make them feel uncomfortable.
Don't talk about controversial or divisive topics that may cause conflict.
Don't drink too much alcohol or engage in other unprofessional behavior.
Don't overshare personal information or gossip about others.
Don't be too pushy or aggressive in trying to sell or promote your business.
Don't forget to follow up after the event or meeting.
See Also: Speaking on the Phone in Business Communication
Introductions and Socializing in Business Communication
3. Scenario
John, a new employee, has just started working at a marketing firm. Today is his first day at work, and he is eager to make a good impression on his colleagues. He arrives at the office early, ready to meet his new coworkers.
As he enters the office, he is greeted by Sarah, the receptionist.
Sarah: Good morning, John. Welcome to our company. How can I assist you today?
John: Good morning, Sarah. Thank you for the warm welcome. I'm excited to start my first day here. Can you please show me where I can find the marketing department?
Sarah: Of course. Follow me, please. Along the way, let me introduce you to some of your new colleagues.
As they walk through the office, Sarah introduces John to several people.
Sarah: John, this is Jane, our marketing manager. And this is Peter, our creative director.
John: Hi, nice to meet you both.
Jane: Welcome to the team, John. We're happy to have you onboard.
Peter: Yeah, we're always excited to see new faces around here.
John: Thank you. I'm looking forward to working with you all.
Sarah: And over here is the break room, where you can grab a cup of coffee or tea. You'll find most of your colleagues here during their breaks, so it's a great place to get to know everyone.
John: That sounds like a good idea. Thanks for showing me around, Sarah.
Sarah: No problem, John. If you need anything else, don't hesitate to ask.
As John settles into his new role, he makes an effort to socialize with his coworkers during breaks and lunchtime. He learns about their interests and hobbies, and they exchange stories about their personal and professional lives. By the end of his first week, John feels like he has made some great connections with his colleagues, and he's excited to be a part of the team.
3.1. Main expressions
Good morning, welcome, how can I assist you today?
Excited to start my first day here
Nice to meet you both
Welcome to the team, happy to have you onboard
Looking forward to working with you all
3.2. Body language
Maintaining eye contact and smiling during introductions can show confidence and friendliness.
Using a firm handshake when meeting someone new can convey professionalism and respect.
Leaning in slightly when talking to someone can show interest and engagement.
Nodding and using affirmative words like "yes" or "I see" can indicate understanding and agreement.
Mirroring the body language of the person you're speaking with can create a sense of connection and rapport.
3.3. Paying attention to body language can help in good communication by:
Demonstrating sincerity and authenticity
Showing respect and interest in the other person
Establishing a sense of trust and comfort
Enhancing the overall impression and impact of the message being conveyed.
4. Small Talk
A polite conversation about unimportant things that people make on social occasions
a light conversation about common, everyday things; chitchat
We exchanged greetings and small talk about the weather.
4.1. Topics for Small Talk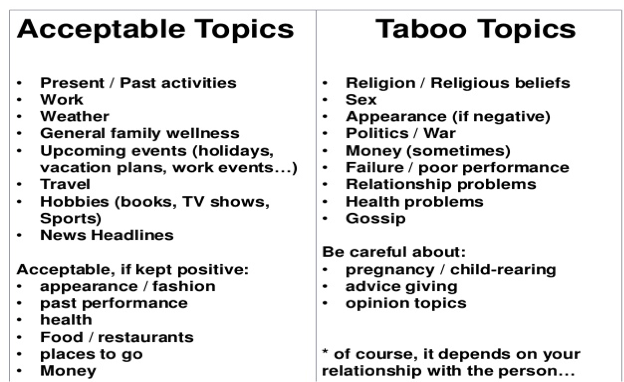 5. Vocabulary
Find vocabulary words related to introductions and socializing in business communication, along with their definitions:
Introduce: To make someone known to another person by name or by presenting them.
Networking: The act of making connections and building relationships with other people, often with the intention of advancing one's career or business.
Small talk: Casual conversation about unimportant or general topics that is used to establish rapport and build a relationship.
Icebreaker: A conversation starter or activity designed to help people feel comfortable and start interacting with each other.
Formal: Following traditional, established customs or etiquette, often in a professional or business context.
Informal: Relaxed or casual, without strict adherence to formal customs or etiquette.
Business card: A small card that contains a person's contact information and is often exchanged during business introductions.
Handshake: A customary greeting in which two people grasp and shake each other's right hand.
Protocol: The accepted or customary way of doing things in a particular situation or context.
Etiquette: The set of social conventions and expectations for behavior in a particular context or culture.
Introducer: A person who introduces others to each other.
Conversation partner: A person with whom one is having a conversation.
Networking event: An event designed for people to meet and build relationships with other professionals in their industry.
Name tag: A small card or sticker worn on clothing that displays a person's name and often their affiliation or job title.
Elevator pitch: A short, persuasive speech that explains what a person or business does and why it is valuable, often used in networking or business introductions.
Follow-up: To contact someone again after an initial meeting or conversation, often to continue building a relationship or to pursue a business opportunity.
Referral: A recommendation of a person or business to another person or business, often made in a professional or business context.
Professionalism: The quality of behaving in a competent, ethical, and respectful manner in a professional context.
Business etiquette: The set of expected behaviors and customs in a professional or business context, including manners, dress, communication, and respect for others.
Business relationship: A professional relationship between two people or businesses that involves regular communication and interaction, often with the goal of achieving mutual benefits or goals.