1. Introduction
In this course, we delve into the realm of job interviews, the exhilarating bridge connecting talent with prosperous careers. In the realm of business communication, job interviews stand as the pinnacle of assessing compatibility and potential, where candidates showcase their capabilities while organizations search for the perfect addition to their workforce.
Thank you for reading this post, don't forget to subscribe!
Indeed, the job interview is a multifaceted platform where verbal and non-verbal communication intertwine to create a symphony of expression. The art of articulation, body language, and interpersonal skills takes center stage, providing a captivating canvas for candidates to leave a lasting impression on potential employers. A carefully crafted response, a firm handshake, an engaging smile, or an astute question can be the defining moment that opens the doors to a prosperous future.
In this fascinating dance of words and gestures, mastering the art of business communication during job interviews is nothing short of a superpower. It enables candidates to effortlessly convey their strengths, aspirations, and unique value propositions while resonating with hiring managers who seek to build thriving, dynamic teams. The power of effective communication allows candidates to project confidence, authenticity, and adaptability, leaving indelible marks on the minds of those who hold the keys to their professional destinies.
So, whether you are a job seeker eager to unlock the secrets of impeccable business communication or an organization seeking to enhance your hiring process, join us on this transformative journey. Together, we will explore the nuances, strategies, and best practices that elevate job interviews into an art form, harnessing the immense potential that lies within every interaction. Prepare to unravel the mysteries of effective business communication in job interviews and embark on a path that leads to limitless possibilities.
2. What is Job Interview?
Job Interview refers to the process of assessing a candidate's qualifications, skills, and suitability for a specific job position within a business or organizational context. It involves a structured conversation between the candidate and one or more interviewers, where the candidate's communication abilities, both verbal and non-verbal, play a crucial role in conveying their qualifications, demonstrating their fit for the role and the organization, and building rapport with the interviewer(s).
3. Importance of job interviews in business communication
Job interviews serve as a critical aspect of business communication. They provide an opportunity for candidates to demonstrate their skills, experience, and potential to potential employers. At the same time, interviews allow organizations to evaluate candidates' suitability for their teams and assess their ability to effectively communicate and engage with others.
4. Preparing for a Job Interview
A. Researching the company and position
Before a job interview, it is crucial to conduct thorough research on the company and the specific position. This involves understanding the company's history, mission, values, and culture. Additionally, researching the position will enable candidates to align their skills, experiences, and accomplishments with the requirements of the role, thus demonstrating their fit for the organization.
B. Understanding job requirements and aligning skills
Analyzing the job requirements is essential to showcase the candidate's relevant skills and experiences during the interview. By identifying the key competencies and qualifications sought by the employer, candidates can tailor their responses to highlight their abilities in relation to the position. This alignment increases their chances of making a positive impression on the interviewer.
C. Crafting compelling resumes and cover letters
Resumes and cover letters are crucial documents that introduce candidates to potential employers. Crafting a compelling resume involves organizing information effectively, emphasizing relevant experiences and achievements, and presenting the document in a visually appealing format. Similarly, a well-written cover letter should articulate the candidate's motivation, match their skills to the job requirements, and demonstrate their enthusiasm for the position.
D. Practicing interview questions and responses
Preparation is key to success in job interviews. Candidates should practice answering common interview questions and develop concise and coherent responses. Practicing in advance allows candidates to refine their answers, incorporate relevant examples, and effectively communicate their qualifications. It also helps in building confidence and reducing nervousness during the actual interview.
5. The Role of Business Communication in Job Interviews
A. Verbal communication skills
Verbal communication skills play a crucial role in job interviews. Candidates need to articulate their thoughts clearly and concisely, using appropriate language and vocabulary. Effective verbal communication involves expressing ideas with confidence, active listening to interviewers' questions, and providing well-structured responses that address the key points effectively.
B. Non-verbal communication skills
Non-verbal communication encompasses body language, facial expressions, eye contact, handshakes, and overall professional appearance. During job interviews, candidates must be aware of their body language and present themselves with poise and confidence. Maintaining eye contact with the interviewer, offering a firm handshake, and dressing appropriately contribute to creating a positive impression.
C. Interpersonal skills
Interpersonal skills are essential in job interviews as they demonstrate the candidate's ability to interact effectively with others. Building rapport and establishing a connection with the interviewer is crucial. Candidates should display empathy, active listening, and emotional intelligence. They should also showcase their problem-solving abilities, teamwork skills, and collaboration potential, highlighting their suitability for the organization's work environment.
6. Strategies for Effective Business Communication in Job Interviews
A. Crafting compelling narratives and personal branding
Candidates can differentiate themselves by crafting compelling narratives that showcase their unique experiences and skills. By presenting their accomplishments in a story format, candidates engage interviewers and leave a lasting impression. Effective personal branding enables candidates to position themselves as valuable assets to the organization.
B. Tailoring communication style to match the company culture
Adapting one's communication style to align with the company culture is crucial during job interviews. By researching and understanding the organization's communication norms, candidates can tailor their responses to resonate with the values and expectations of the company. This demonstrates their ability to adapt and integrate seamlessly into the work environment.
C. Responding to common interview questions
Job interviews often include common questions such as "Tell me about yourself" or "What are your strengths and weaknesses?" Candidates should be prepared to provide thoughtful and concise responses that highlight their relevant skills and experiences. By structuring their answers effectively and providing specific examples, candidates can effectively communicate their suitability for the position.
D. Asking insightful questions to showcase interest and engagement
Asking well-thought-out questions during the interview demonstrates the candidate's interest, engagement, and research into the company. Thoughtful questions allow candidates to gather additional information about the role, the company's future plans, or the team dynamics. It showcases their enthusiasm for the position and their commitment to making an informed decision if offered the job.
E. Handling challenging interview situations with grace and composure
Job interviews may present challenging situations such as unexpected questions, hypothetical scenarios, or dealing with multiple interviewers. Candidates should be prepared to handle such situations with grace and composure. This involves staying calm, thinking critically, and responding confidently while maintaining professionalism and respect for the interviewers.
7. Tools and Resources for Enhancing Business Communication Skills
A. Online courses and workshops
B. Books and publications on effective communication
C. Networking and mentorship opportunities
D. Role-playing and mock interview sessions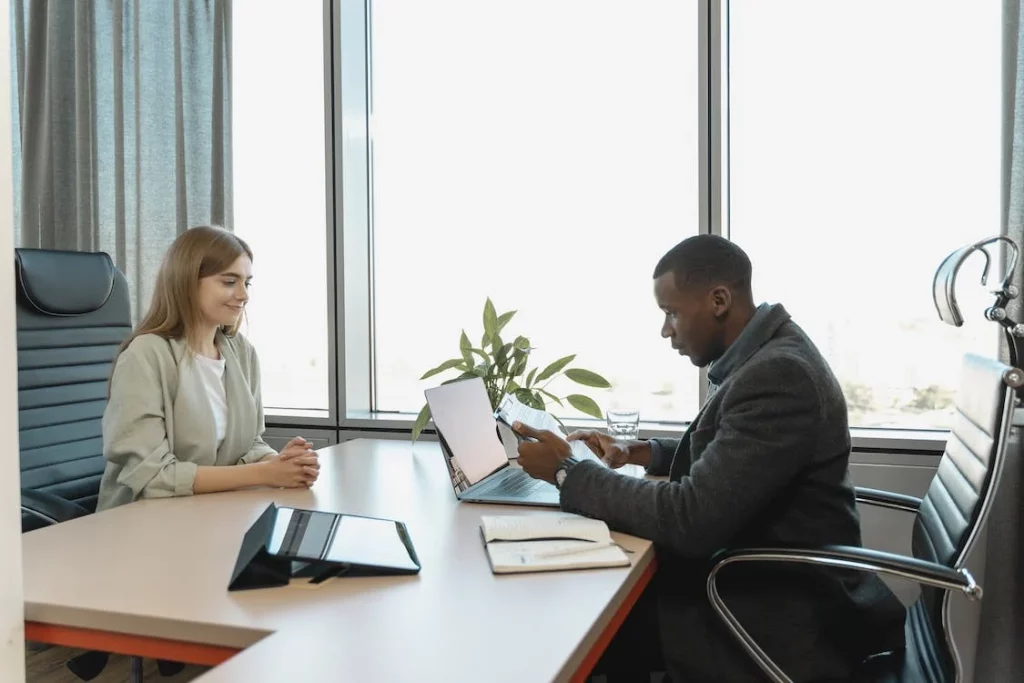 8. Scenario of a Job Interview
Interviewer: Mr. Smith (representing the company)
Candidate: Emily (job applicant)
(Interview room setting: Emily enters the room, greets Mr. Smith with a firm handshake, and takes a seat.)
Mr. Smith: Good morning, Emily. It's great to meet you. How are you today?
Emily: Good morning, Mr. Smith. I'm doing well, thank you. I'm excited to be here and discuss the opportunity with your company.
Mr. Smith: Excellent. Let's start by discussing your background and experiences. Can you tell me a bit about your previous work experience and how it aligns with the requirements of this position?
Emily: Certainly, Mr. Smith. I have five years of experience in digital marketing, specifically focused on social media management and content creation. In my previous role at x Company, I successfully managed social media campaigns for various clients, resulting in increased brand visibility and engagement. I believe this experience aligns well with the digital marketing responsibilities outlined in the job description.
Mr. Smith: That's impressive, Emily. In this role, effective communication is key as you'll be collaborating with different teams. How do you ensure clear and efficient communication when working on cross-functional projects?
Emily: Collaboration and communication are crucial in cross-functional projects. I make sure to actively listen to team members' perspectives and ideas, encouraging an open dialogue. Additionally, I utilize project management tools like Trello and hold regular team meetings to align everyone's goals and expectations. By maintaining clear communication channels and fostering a collaborative environment, I believe we can achieve project success.
Mr. Smith: Great approach, Emily. Let's discuss your problem-solving skills. Can you provide an example of a challenging situation you encountered at work and how you handled it?
Emily: Of course, Mr. Smith. In my previous role, we faced a significant decline in website traffic for one of our clients. I conducted a thorough analysis and identified a technical issue that was causing the drop. I immediately collaborated with the development team to resolve the issue, communicated updates to the client transparently, and implemented a targeted marketing campaign to regain lost traffic. As a result, we not only resolved the problem but also exceeded the client's expectations by achieving a significant increase in website traffic within a month.
Mr. Smith: Impressive problem-solving skills, Emily. Now, do you have any questions for me or anything you'd like to know about our company?
Emily: Thank you, Mr. Smith. I would love to know more about the company's growth plans and the team dynamics within the department I'll be joining.
[They engage in a discussion about the company's growth plans, team dynamics, and potential future projects.]
Mr. Smith Thank you for your questions, Emily. It was a pleasure speaking with you today. We'll be in touch soon.
Emily: Thank you, Mr. Smith. I appreciate the opportunity to interview with your company. I look forward to hearing from you.
[They shake hands, and Emily leaves the room.]
---
In this scenario, Emily demonstrates confidence, clear articulation of her experiences, and the ability to provide relevant examples to support her qualifications. She actively listens to the interviewer's questions and responds thoughtfully. Emily also engages in asking insightful questions, showing her interest and enthusiasm for the company and the role. The interview flows smoothly, and both parties leave with a positive impression of each other.
check tips in this video: Click here
9. The vocabulary of "Job Interview"
Behavioral Interview: A type of job interview that focuses on past behavior and experiences to predict future performance. Candidates are asked situational or behavioral questions to assess their skills, abilities, and suitability for the role.
Competency-based Interview: An interview method where candidates are assessed against specific competencies or skills required for the job. Questions are designed to evaluate how well candidates demonstrate those competencies through their past experiences and actions.
STAR Method: A structured approach used to answer behavioral interview questions. It stands for Situation, Task, Action, and Result. Candidates provide a concise description of the situation, explain the task or challenge, describe the actions they took, and share the outcome or result achieved.
Elevator Pitch: A brief, persuasive summary that candidates deliver to introduce themselves and highlight their key qualifications, skills, and experiences. It aims to create a memorable first impression and generate interest in the candidate's profile.
Active Listening: The ability to fully focus and comprehend what the interviewer is saying during a job interview. Active listening involves paying attention, clarifying information, and responding appropriately to demonstrate understanding and engagement.
Body Language: Non-verbal cues and gestures that communicate a candidate's attitudes, emotions, and confidence during a job interview. It includes posture, facial expressions, eye contact, hand movements, and overall body movements.
Emotional Intelligence: The ability to recognize, understand, and manage one's own emotions and effectively navigate and respond to others' emotions. Emotional intelligence plays a significant role in building rapport, demonstrating empathy, and handling interpersonal dynamics during job interviews.
Cultural Fit: The alignment between a candidate's values, attitudes, and behavior with the company's culture and work environment. Employers assess cultural fit during job interviews to determine whether a candidate will thrive and contribute positively to the organization.
Open-ended Questions: Questions that require more than a simple yes or no answer and encourage candidates to provide detailed and thoughtful responses. Open-ended questions allow interviewers to gain deeper insights into a candidate's experiences, problem-solving abilities, and communication skills.
Professionalism: Demonstrating appropriate behavior, demeanor, and ethics during a job interview. Professionalism includes dressing appropriately, showing respect, being punctual, and maintaining a positive and courteous attitude throughout the interview process.
Confidence: A belief in one's own abilities and qualities, displayed through self-assuredness, poise, and assertiveness during a job interview. Confidence is essential for effectively communicating skills, experiences, and qualifications to interviewers.
Transferable Skills: Skills and abilities that can be applied to different roles or industries. During job interviews, candidates highlight their transferable skills to demonstrate their versatility and adaptability to new job contexts.
Problem-solving Skills: The ability to analyze complex situations, identify challenges, and develop effective solutions. Problem-solving skills are often assessed during job interviews through situational or case-based questions.
Professional Development: Activities and efforts undertaken to improve skills, knowledge, and capabilities related to one's profession. Candidates may discuss their ongoing professional development initiatives during job interviews to demonstrate their commitment to growth and learning.
Cultural Competence: The ability to effectively interact and work with individuals from diverse cultural backgrounds. Employers value cultural competence as it promotes inclusivity and collaboration within the organization. Candidates may showcase their cultural competence during job interviews by discussing experiences working with diverse teams.
Adaptability: The ability to adjust and thrive in new or changing work environments. Employers seek candidates who can adapt quickly to different situations and challenges. During job interviews, candidates can provide examples of how they have successfully navigated change and demonstrated adaptability.
Conflict Resolution: The ability to address and resolve conflicts or disagreements in a constructive manner. Candidates may highlight their conflict resolution.
Personal Branding: The intentional process of defining and promoting one's unique professional identity and value proposition. Candidates can discuss their personal brand during job interviews, emphasizing their strengths, expertise, and distinctive qualities that set them apart from other candidates.
Follow-up: The act of sending a thank-you note or email to the interviewer(s) after a job interview to express appreciation for the opportunity and reiterate interest in the position. Follow-up communication demonstrates professionalism, attentiveness, and a genuine desire to continue the conversation.
Non-Verbal Communication: Communication that occurs through body language, facial expressions, gestures, and other non-verbal cues. Non-verbal communication can greatly impact the overall impression a candidate makes during a job interview. Being mindful of non-verbal cues can help convey confidence, engagement, and professionalism.
See Also: Introductions and Socializing in Business Communication