In this article, you would provide a brief overview of the topic, highlighting that agendas and minutes are essential components of effective meeting management in a professional context.
1. Agendas in business communication
2. Minutes in Business Communication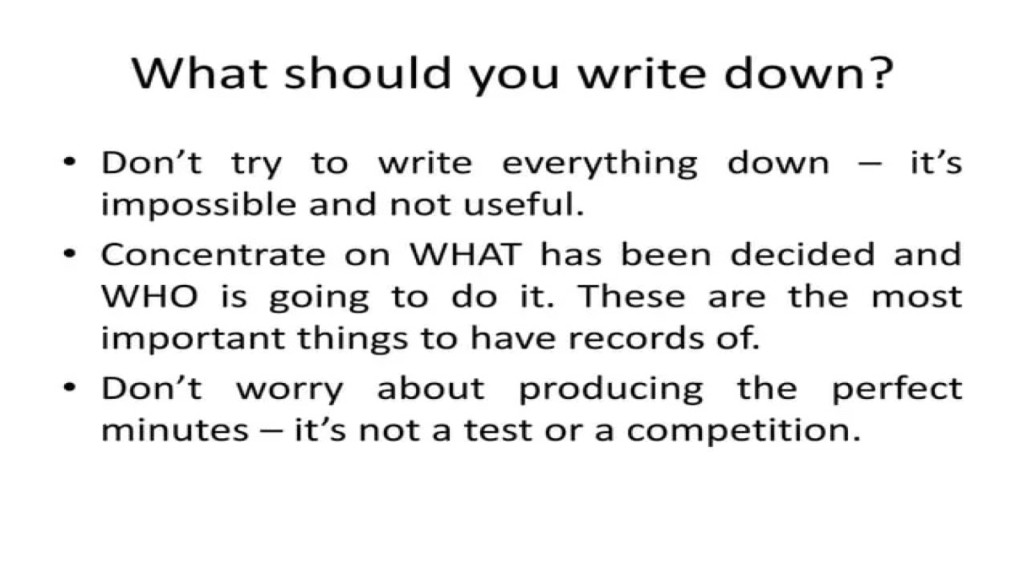 3. Vocabulary
Agendas: Agendas are documents that outline the topics, order, and time allocation for discussion during a meeting. They provide structure and direction to ensure productive and organized meetings.
Minutes: Minutes are written records of the discussions, decisions, and actions taken during a meeting. They serve as a reference and documentation of the meeting proceedings.
Meeting management: Meeting management refers to the skills and techniques involved in planning, organizing, and conducting effective meetings. It includes agenda setting, time management, facilitation, and documentation.
Action items: Action items are specific tasks or actions that are assigned to individuals during a meeting. They include the responsibilities, deadlines, and follow-up actions required to accomplish the tasks.
Follow-up: Follow-up refers to the actions taken after a meeting to ensure that the decisions made and tasks assigned are implemented. It involves tracking progress, providing updates, and addressing any outstanding issues.
Discussion points: Discussion points are the specific topics or issues to be addressed during a meeting. They are included in the agenda to guide the flow of the discussion and ensure that all relevant topics are covered.
Decision-making: Decision-making is the process of reaching a conclusion or choosing a course of action. Meetings often involve discussions and deliberations that lead to decision-making on various matters.
Accountability: Accountability refers to the responsibility and answerability of individuals for their actions, decisions, and assigned tasks. Clear minutes document accountability by recording who is responsible for specific actions.
Record-keeping: Record-keeping involves the systematic documentation and preservation of meeting-related information, including agendas, minutes, attendance lists, and supporting documents. It ensures that a reliable historical record is maintained.
Professional communication: Professional communication in the context of agendas and minutes involves using clear, concise, and formal language to convey information accurately and effectively. It includes the appropriate use of vocabulary, tone, and style in written and oral communication during meetings.
Check more: Job Interview
How to Write a Perfect Meeting Agenda ( Video)