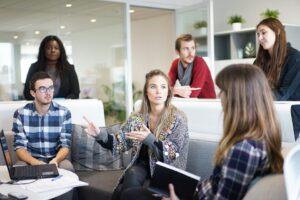 If you are willing to learn English, have a look at these 5 top tips for learning English. These are just a few among many others.
1. Focus on the four skills (listening, speaking, reading, and writing)

The order is very important. In the process of learning any foreign, it is better to follow the same order as any kid does in language acquisition. Kids start with listening, then speaking, and finally reading/writing. For instance, while trying to cook, do the house chores, or doing sport, download some slow-speed audio lessons. The content should be simple and has to do with real-life tasks. It is noteworthy t mention that in the beginning, you will for sure not be able to understand everything or sometimes nothing at all, but with time and receiving enough input things will be great.
The second most important skill is speaking. Babies who are acquiring their native language make tons of grammatical and pronunciation mistakes, so it is the same for you as an adult to make mistakes too. Practice speaking with family members, online friends, and acquaintances. Never be ashamed of your wrongly mispronounce words. And never seek fluency or striving to get an American or British-like accent. With practice, things get better.
Third, read a lot. The reading stage is very important, don't pick up very challenging titles with hundreds of pages. Start with a 6-pages story that can be of your interest
. Vary your reading materials: books, articles, magazines, leaflets, online news pages.
2. Speak English aloud and in front of the mirror
Your ultimate goal is to learn English and sometimes to have an American or British-like accent. In countries where English is a foreign language, there is not enough language input in society. Thus, you have to create that atmosphere starting from your own room. When you listen to widely used expressions, repeat them aloud and imitate the intonation and the pitch. Record your voice and repeat it again. Sometimes compare it with the original one. Additionally, write everything in English including your to do list, naming objects around you, and personal memories.
3. Watch a lot of movies, series, and sitcoms
Watching series, movies, sitcoms, and even cartoons from your childhood memories is very helpful. These are highly recommended ones:
– Friends: it is an American funny sitcom in 10 seasons about the personal and professional lives of 6 friends living in Manhattan.
– The pursuit of happiness: it is real-life story about a man taking custody of his son and striving to get a decent job after failing many times.
– The Simpsons
Pick up the ones you like: drama, horror, action, or romantic. Preferences vary. There is another issue that has to do with subtitles, it is advisable to avoid watching movies or series with subtitles in your mother tongue or any other language.
4. Socialize online
In a context where English is a foreign language, it is better for you to look for new friends on social networks like Facebook pages or groups, Instagram, chat rooms and meet with natives for the sake of practicing your English and learn real-life expressions.
5. Motivation and a plan
Motivation is the key to success in everything you do in life. Be positive and picture yourself as a good speaker and language practitioner. Obstacles and challenges will always be there, so consider them as a part of your learning process. The second thing is to have a plan and objective. Set daily objectives. For example, challenge yourself to memorize ten words a day, it means 300 words a month. Or watching a 5 minutes video on YouTube 5 times. Keep yourself busy learning English. And don't forget, hard work pays off.
If you think these tips are useful, please "SHARE AND CARE"